Progress Reports &
2021-2022 Course Verfication Forms

Students' 2021 - 2022 course verification form will be distributed with progress reports. Parents and guardians are to sign the form which is documentation of courses requested for the 2021-2022 school year. If changes are need, directions are provided on the form. All course requests are due no later than June 1st.
Please see distribution instructions below:
Traditional students will receive progress reports and the 2021-2022 course verification form

during homeroom on Friday, May 7th

. Signed verification forms are to be returned to homeroom teachers.

Virtual students will pick up their progress reports and course verifications on Monday, May 10th, in the gym from 12:00 pm. to 2:00 p.m. These reports will not be mailed out. Virtual Students will need to drop off their course verifications in the student center between 8:00 a.m. and 2:00 p.m. Monday through Friday.
​_________________________________________________
COVID-19 Vaccination
Autauga County School System has partnered with Baptist Hospital to offer a series of two-doses of the Pfizer COVID-19 vaccination to students 16 years of age and older at Prattville Medical Park. Bus transportation will be provided for students to and from the vaccination facility. Students will be vaccinated, monitored for 15 minutes and transported back to their schools. The first dose will be given on Friday, May 7, 2021 and the second dose will be given on Friday, May 28, 2021.
These vaccinations will be provided at no cost to our students. Parents/Guardians will need to complete the on-line registration and permission form atwww.baptistfirst.org and complete the attached Autauga County field-trip form and return no later than Wednesday, May 5, 2021.
Students who receive both doses of the vaccine will possibly be exempt from isolation and/or quarantine guidelines after two weeks have passed from the last vaccination. Proof of vaccination will be required. For questions and/or concerns, please visit www.cvdvaccine.com.
​_________________________________________________
2021 - 2022 Virtual School
Application deadline - May 31, 2021
Applications are being accepted for students interested in taking classes virtually next year. All virtual students will complete their classes via Edgenuity, not schoology. The application link is on the district website and below.
Completion of this application does not guarantee that the student will be enrolled as a virtual student. District and school staff will review submitted applications. Participation may be denied if it is determined that the virtual learning setting would be detrimental to the student's academic progress. All decisions regarding this application will be shared in a timely manner. Complete all portions of the application. If you have questions prior to completing your application, please email send an email to parents@acboe.net.
2021-2022 Virtual School Application.
​_________________________________________________
2021 Summer School Options
PHS will be offering summer school this year and the following 3 options will be available:
Credit Recovery

is a program that allows students to make up the standards in which they need to pass the class. This program has specific guidelines that the ACBOE has developed which we follow. This program is for grades 10-12 only. There will not be a fee for this program.


Summer school is offered for all students in grades 9-12 that failed a class. There will not be a fee for this program.




Credit advancement allows students to take classes ahead of the school year. There will be a fee associated with this program. Typically, the fee is $125 per class.
More details will be available at a later date.
​_________________________________________________
2021 Graduation
Updated 4/28/21
Graduation will be on June 3, 2021 at 7:00 p.m.
Stanley Jensen Stadium.
*Rain date is June 4, 2021
Attire
Gentlemen: dark pants, white shirt with tie, and dark dress shoes
Ladies: white dress with light colored shoes
Masks will be provided​​

No decorated masks or caps
Mandatory Graduation Practice
Permission forms must be completed prior to this activity. Forms are found in Schoology,

Seniors meeting the graduation requirements must report to Stanley Jenson, Stadium

by 8:00 am June 3rd

for rehearsal practice.

Rehearsal is for graduating seniors only. No visitors will be allowed.
Graduation Ceremony and Attendance
Seniors will receive

10

visitor tickets for their family and friends.
(A callout will be made when the tickets are available, and a pickup time will be scheduled.)

Seniors will report to the assigned location by 5:30 pm the day of graduation. (Information will be provided during practice.)

Gates will open at 5:30 to the ticket holders and all seating will be general admission.

Seating will be available on both home and visitor's side of the stadium,

Masks will be required to enter the stadium.

All guidelines are subject to change based on CDC, ADPH, and ACBOE recommendations.
​_________________________________________________
Honor's Night May 12
Senior Scholarship Announcements

Seniors, if you would like your scholarships announced on honors night,
complete this cover letter and attach all awards letters.
_________________________________________________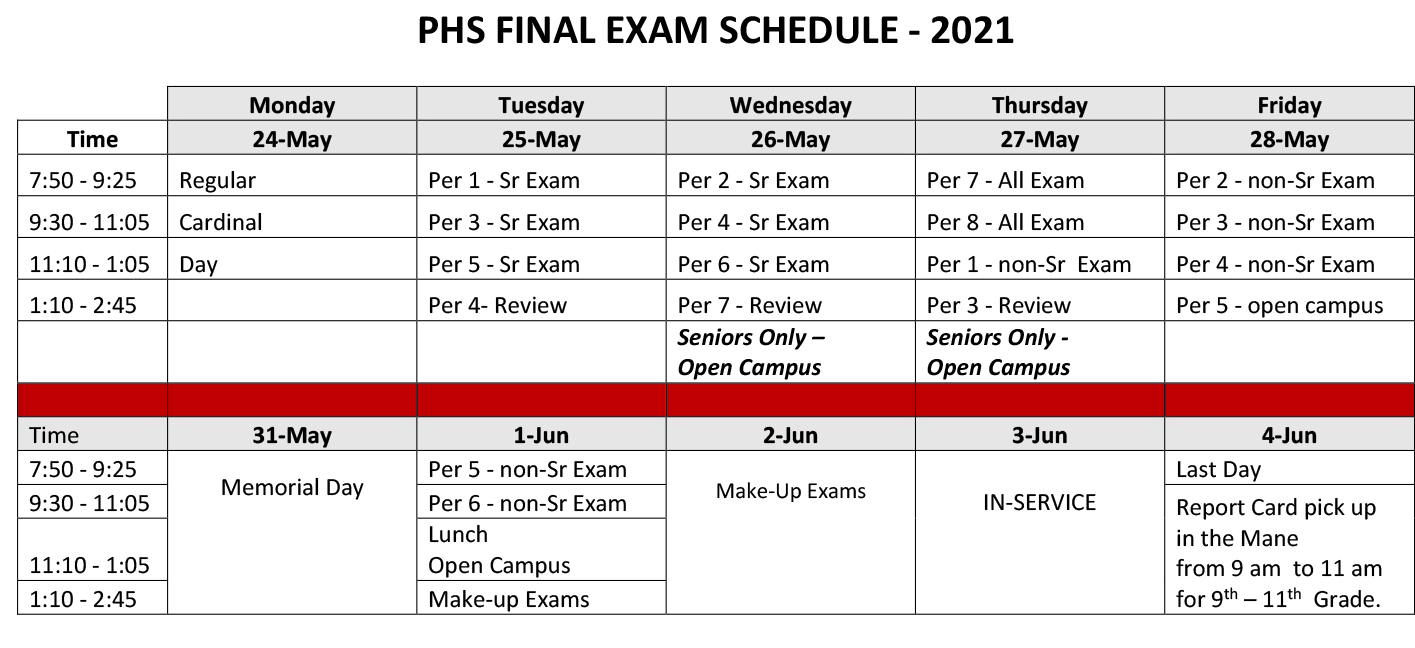 Exam exemptions: student must have an A, B, or C

overall

grade for the

year

. Teachers will notify students if they are exempt closer to exam time.
_________________________________________________
Chromebooks
Parents and Students,
All chromebooks must be returned prior to Summer 2021. Any student that has a chromebook on loan from PHS will need to return the chromebook at the assigned dates times, which will be announced at a later date. If there are problems with or damage to the chromebook, arrangements must be made to repair or replace the chromebook prior to the designated return dates. The following list is an example of the issues that will be looking for when the chromebooks are returned.
Power cord damaged or missing.

Does the unit power on and operate correctly?

Is there external damage beyond normal wear and tear?

Is the screen damaged?

Any other issue that would prevent the device from being reissued in the future.
If you have questions or need assistance, please email cindy.mitchell@acboe.net or amy.reeves@acboe.net.
_________________________________________________
Freshman Boot Camp & Academy of Leaders
Fundraiser/Sponsorship
Freshman are offered two growth opportunities: Freshman Boot Camp before school begins to become familiar with the school, curriculum and teachers; and Academy of Leaders provides students for an opportunity to discover leadership qualities and discuss life issues in an alternate setting. Most important, these opportunities are free to students.
In order to continue these invaluable opportunities, PHS needs your support. Please read the attached detailed letter from Mr. Tony Camara that shares the vision and growth needed. Please contact Mr. Camara at tony.camara@acboe.net.
_________________________________________________
Tutoring
The following teachers are offering tutoring in the afternoons from 3:15 p.m. to 4:15 p.m.
All tutoring sessions are face-to-face

only

.
Virtual students must report to PHS for tutoring.

Parents or students must email the teacher to reserve a seat no later than 1:00 p.m. each day.

Parents and students are responsible for transportation.

Campus will close at 4:30 p.m.
Subject

Teacher

Classroom

Days

Email

English

Leslie Morgan




L1

Monday through Thursday

leslie.morgan@acboe.net


English

Tiffany Rush




L4

Monday & Wednesday

tiffany.rush@acboe.net




English

Michael Donahue

211

Monday & Wednesday

michael.donahue@acboe.net

Math

Hanny Tiesi




M-1

Monday through Wednesday

hanny.tiesi@acboe.net




Math

Elizabeth Garten




M-4

Tuesday through Thursday

elizabeth.garten@acboe.net




Math

Tommy King




M-2

Tuesday & Thursday

tommy.king@acboe.net




Math

Andrea Myers




206

Tuesday through Thursday

andrea.myers@acboe.net




Science

Mary Skipper




203

Tuesday through Thursday

mary.skipper@acboe.net




Science

Lamoura Davis




201

Monday, Wednesday & Thursday

lamoura.davis@acboe.net




Science

Jeremy Cleveland




115

Monday & Wednesday

jeremy.cleveland@acboe.net




Social Studies

Robette King

SS8

Monday through Thursday

robette.king@acboe.net




Social Studies

Alex Smith




SS7

Monday & Wednesday

thomas.smith@acboe.net




Spanish
ESL

Ashley Sanchez




109

Monday through Thursday

ashley.sanchez@acboe.net




Special Education Resource

Tonya Andrews

202

Monday through Thursday

tonya.andrews@acboe.net
_________________________________________________
Senior
Yard Sign
Order a yard sign to celebrate your senior! See the example below. Click here for the order form.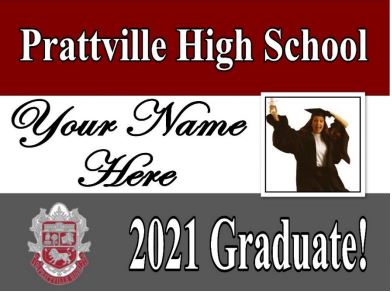 Schoology Support Ticket for Students
PHS students who need assistance with Schoology, please click here to complete a Schoology Support Ticket. Allow 24-48 hours for a response. Do not submit multiple tickets.
Student Google Account Request
PHS students needing an ACBOE Google Account must complete this form. Please allow 24-48 hours for this request to be processed. Do not submit multiple requests.
Need a Textbook?
Virtual students who need textbooks will need to contact their teachers via Schoology to schedule a time to pickup their textbooks. Please do not contact the Main Office or PHS Student Center regarding textbooks.
Schoology Training for Students Video Tutorial
Students enrolled in virtual learning will need to watch the Schoology Training for Students webinar in order to learn to use Schoology effectively. Virtual learning students can access their Schoology accounts by clicking here.
Seniors
Senior Information Form
Seniors ONLY: click here to complete the information form to receive updates about graduation, cap, gown and announcement orders, etc.
2021-2022 Approved
School Calendar
The 2021-2022 school calendar is now available.
____________________