Report Cards for 3rd 9-weeks
All report cards were mailed to the address listed in INOW at the beginning of the week.
Platform Transfer Requests
Effective 4/12/21, letters for platform changes are no longer being accepted.
_________________________________________________
Face Masks Still Required
Per the Autauga County School Board,
students are to continue wearing face masks at school.
_________________________________________________
Honor's Night Senior Scholarship
Announcements

Seniors, if you would like your scholarships announced on honors night, complete this cover letter and attach all awards letters.
_________________________________________________
April 20, 2021
ACT Make-up Rescheduled
Due to shipping delays, the ACT will be given to any Junior student who missed the original test in March at PHS on Tuesday, April 20, 2021. This is a state mandated test and attendance is required for both traditional and virtual students.
Juniors will need to report to the assigned locations by 7:40 Tuesday.

Assigned testing locations will be posted when students arrive. Staff will also be available to direct students to the correct testing location.

Juniors taking the ACT must have picture ID, approved calculator, and a snack and drink the day of the exam.
If a student does not have a picture ID, please contact Wendy Baxley (click on name) for further instructions,

prior

to the test day.

Juniors, virtual or traditional, wishing to leave after the ACT will need a parent's note in order to leave campus after completion of the exam. This note will be given to the testing administrator prior to the start of the exam.
_________________________________________________
CACC Dual Enrollment
PHS has been in discussion with Central Alabama Community College regarding offering a Math dual enrollment math courses for college credit. Please complete this
survey
to determine if there is enough interest for a parent meeting with the community college.
_________________________________________________
Freshman Boot Camp & Academy of Leaders
Fundraiser/Sponsorship
Freshman are offered two growth opportunities: Freshman Boot Camp before school begins to become familiar with the school, curriculum and teachers; and Academy of Leaders provides students for an opportunity to discover leadership qualities and discuss life issues in an alternate setting. Most important, these opportunities are free to students.
In order to continue these invaluable opportunities, PHS needs your support. Please read the attached detailed letter from Mr. Tony Camara that shares the vision and growth needed. Please contact Mr. Camara at tony.camara@acboe.net.
_________________________________________________
2021 Graduation
Graduation will be on June 3, 2021 at 7:00 p.m. at Stanley Jensen Stadium.
Attendance and Safety Guidelines will be forthcoming. Please check the website for updates.
*Rain date is June 4, 2021

_________________________________________________
Tutoring
The following teachers are offering tutoring in the afternoons from 3:15 p.m. to 4:15 p.m.
All tutoring sessions are face-to-face

only

.
Virtual students must report to PHS for tutoring.

Parents or students must email the teacher to reserve a seat no later than 1:00 p.m. each day.

Parents and students are responsible for transportation.

Campus will close at 4:30 p.m.
Subject

Teacher

Classroom

Days

Email

English

Leslie Morgan




L1

Monday through Thursday

leslie.morgan@acboe.net


English

Tiffany Rush




L4

Monday & Wednesday

tiffany.rush@acboe.net




English

Michael Donahue

211

Monday & Wednesday

michael.donahue@acboe.net

Math

Hanny Tiesi




M-1

Monday through Wednesday

hanny.tiesi@acboe.net




Math

Elizabeth Garten




M-4

Tuesday through Thursday

elizabeth.garten@acboe.net




Math

Tommy King




M-2

Tuesday & Thursday

tommy.king@acboe.net




Math

Andrea Myers




206

Tuesday through Thursday

andrea.myers@acboe.net




Science

Mary Skipper




203

Tuesday through Thursday

mary.skipper@acboe.net




Science

Lamoura Davis




201

Monday, Wednesday & Thursday

lamoura.davis@acboe.net




Science

Jeremy Cleveland




115

Monday & Wednesday

jeremy.cleveland@acboe.net




Social Studies

Robette King

SS8

Monday through Thursday

robette.king@acboe.net




Social Studies

Alex Smith




SS7

Monday & Wednesday

thomas.smith@acboe.net




Spanish
ESL

Ashley Sanchez




109

Monday through Thursday

ashley.sanchez@acboe.net




Special Education Resource

Tonya Andrews

202

Monday through Thursday

tonya.andrews@acboe.net
_________________________________________________
Month of the Military Child
During the month of April, all branches of the military collectively recognize military children and youth. Service members and families can find event details, appreciation kit information and additional resources on the Month of the Military Child webpage.
A special message for military children.
Senior
Yard Sign
Order a yard sign to celebrate your senior! See the example below. Click here for the order form.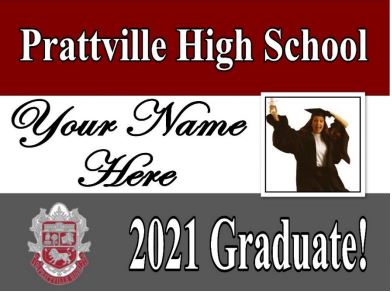 Schoology Support Ticket for Students
PHS students who need assistance with Schoology, please click here to complete a Schoology Support Ticket. Allow 24-48 hours for a response. Do not submit multiple tickets.
Student Google Account Request
PHS students needing an ACBOE Google Account must complete this form. Please allow 24-48 hours for this request to be processed. Do not submit multiple requests.
Need a Textbook?
Virtual students who need textbooks will need to contact their teachers via Schoology to schedule a time to pickup their textbooks. Please do not contact the Main Office or PHS Student Center regarding textbooks.
Schoology Training for Students Video Tutorial
All Prattville High School students enrolled in virtual learning will need to watch the Schoology Training for Students webinar in order to learn to use Schoology effectively. Virtual learning students can access their Schoology accounts by clicking here.
Designated Faculty
& Staff Parking
Faculty and Staff parking spaces have been designated with a white Power P logo. Students who park in the spots will receive a ticket and possible loss of parking privilege.
Seniors
Senior Information Form
Seniors ONLY: click here to complete the information form to receive updates about graduation, cap, gown and announcement orders, etc.
2021-2022 Approved
School Calendar
The 2021-2022 school calendar is now available.
____________________