PHS Basketball Dance Team Tryouts
Packets may be picked-up in room 201, student center, or downloaded by March 10, 2021.
March 11 - mandatory parent meeting @ 5:30 p.m. in the Mane.

March 15, 17, 19* mandatory practice 3:45 - 6:00 p.m. in the gym

March 19 - Tryouts in the gym at 3:45 p.m.

See packet for detailed information.
*Corrected dates
Letter Jacket Information
and Ordering
It's here!!! Time to order Letter Jackets! Jostens will be in the Prattville High School Mane (Cafeteria) on SUNDAY March 14 from 2:00-4:00PM. Keep an eye out for information coming home with your student soon. Go LIONS!
Tutoring
The following teachers are offering tutoring in the afternoons from 3:15 p.m. to 4:15 p.m.
All tutoring sessions are face-to-face

only

.
Virtual students must report to PHS for tutoring.

Parents or students must email the teacher to reserve a seat no later than 1:00 p.m. each day.

Parents and students are responsible for transportation.

Campus will close at 4:30 p.m.
Subject

Teacher

Classroom

Days

Email

English

Leslie Morgan




L1

Monday through Thursday

leslie.morgan@acboe.net




English

Tiffany Rush




L4

Monday & Wednesday

tiffany.rush@acboe.net




Math

Hanny Tiesi




M-1

Monday & Wednesday

hanny.tiesi@acboe.net




Math

Elizabeth Garten




M-4

Tuesday through Thursday

elizabeth.garten@acboe.net




Math

Tommy King




M-2

Tuesday through Thursday

tommy.king@acboe.net




Math

Cynthia Summers




206

Monday

cynthia.summers@acboe.net




Science

Mary Skipper




203

Tuesday through Thursday

mary.skipper@acboe.net




Science

Lamoura Davis




201

Monday, Wednesday, Thursday

lamoura.davis@acboe.net




Science

Jeremy Cleveland




115

Monday & Wednesday

jeremy.cleveland@acboe.net




Social Studies

Robette

King




SS8

Monday through Thursday

robette.king@acboe.net




Social Studies

Alex Smith




SS7

Monday through Thursday

thomas.smith@acboe.net




Spanish
ESL

Ashley Sanchez




109

Monday through Thursday

ashley.sanchez@acboe.net



_________________________________________________
Yearbooks and Portrait Information
Yearbooks are still on sale for $75 each. You can drop off payment in the student center, mail your payment, or order online through the Yearbook Order Center, school code #1201.
Fall portraits and proofs have been delivered to the school. Virtual students may pick up portraits or proofs in the student center and traditional students will need to pick up portraits or proofs from Mrs. Barnes in room L-6.
Senior memory ad sales have been extended to Feb. 26th. You may find information about purchasing a senior memory ad on the Yearbook page. If you have any questions, you may contact the yearbook staff at phsybk@gmail.com
__________________________________________________________
Senior Yard Sign
Order a yard sign to celebrate your senior! See the example below. Click here for the order form.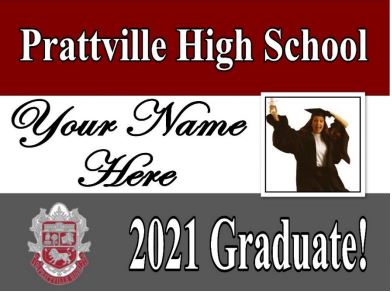 Schoology Support Ticket for Students
PHS students who need assistance with Schoology, please click here to complete a Schoology Support Ticket. Allow 24-48 hours for a response. Do not submit multiple tickets.
Student Google Account Request
PHS students requesting an ACBOE Google Account click here to complete a Google Account Request Form. Please allow 24-48 hours for this request to be processed. Do not submit multiple requests.
Need a Textbook?
Virtual students who need textbooks will need to contact their teachers via Schoology to schedule a time to pickup their textbooks. Please do not contact the Main Office or PHS Student Center regarding textbooks.
Schoology Training for Students Video Tutorial
All Prattville High School students enrolled in virtual learning will need to watch the Schoology Training for Students webinar in order to learn to use Schoology effectively. Virtual learning students can access their Schoology accounts by clicking here.
Learning Platform
Change Request
Parents wishing to change the learning platform for a student must submit a signed letter to the front office of PHS. The letter must include a reason for the transition, student's grade, student's full name, and the parent's or guardian's contact information.
Designated Faculty
& Staff Parking
Faculty and Staff parking spaces have been designated with a white Power P logo. Students who park in the spots will receive a ticket and possible loss of parking privilege.
Seniors
Senior Information Form
Seniors ONLY: click here to complete the information form to receive updates about graduation, cap, gown and announcement orders, etc.