English Teacher/National Honor Society Co-Sponsor
Courses Taught:
Advanced Placement Language and Composition
Honors English 11
General English 11
Bachelor's degree in Secondary Education from the University of Alabama.
Master's degree in Library Media from the University of West Alabama.
I achieved my National Board Certification in English Language Arts in 2020.
Dacula High School in Gwinnett County, Georgia--2004-2005
Senior College Prep English
Prattville High School-- 2006-present
10th grade English and 11th grade English--all levels
ETS College Board AP reader. I have been scoring the AP Language and Composition exam since 2015. I have traveled to Kansas City and Tampa each summer to score and collaborate with other AP teachers from around the world. I have scored all three essay types: Synthesis, Rhetorical Analysis, and Argument.
I am a presenter for the A+ College Ready program which works to increase access to and success in Advanced Placement courses for underserved students across the state. I travel to schools and work with teachers and students during AP Saturday Study Sessions.
In December 2019, I was selected as Autauga County's Secondary Teacher of the Year!
I am on the Board of Directors of the Alabama Network for National Board Certified Teachers as the Communications Secretary.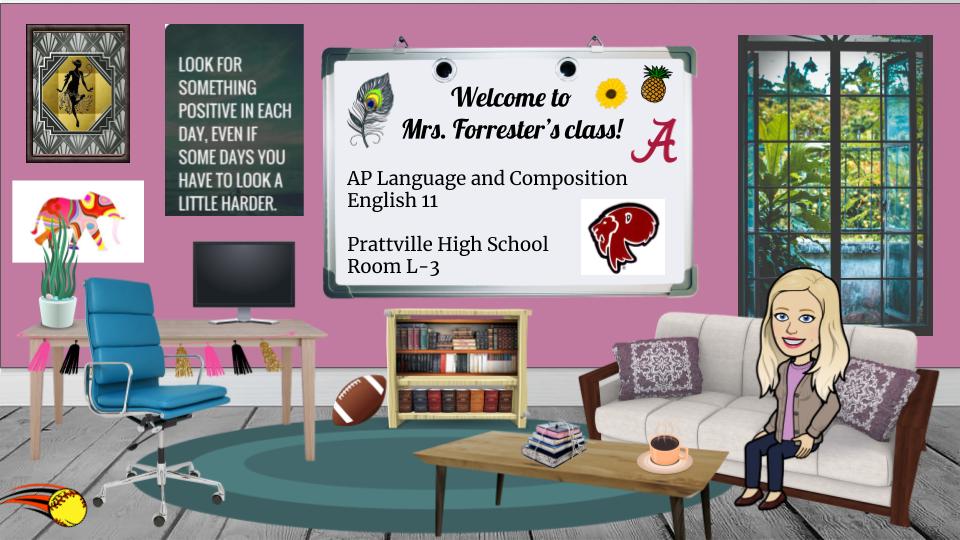 My husband and I both work in the English department here at the high school. We have two young daughters who keep us very busy. I am an avid SEC college football and softball fan, but my favorite team of all time is obviously The Alabama Crimson Tide (Roll Tide Roll)!
I absolutely love being a teacher. Seeing the students put their heart and soul into their work and then reap the benefits of that productive struggle are what makes my job worthwhile. I truly cherish the connections I am able to make with each student in the pursuit of their goals.
I am very appreciative of communication with my students and their parents. I am easiest to reach via email. My email address is: andrea.forrester@acboe.net
I look forward to having an outstanding school year!
Syllabi & Useful Information
AP Lang and Lit Infomercial
AP Language and Composition Remind:
Text: @aplangforr to the number 81010

General English 11 Remind:
Text: @forreng11 to the number 81010
Honors English 11 Remind:
Text @honengfor to the number 81010