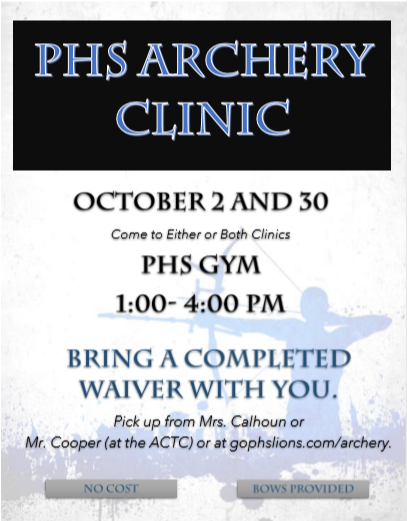 Welcome to our Lions and future Lions! PHS Archery practices will be Tuesday and Thursday afternoons from 3:00-5:30 PM. We practice in the football field house during basketball season and move to the gym once it is over. All practices require set up and take down by every member of the team so being present and on time is of the utmost importance. Please communicate with the coaches or team captains about ANY practice you must miss. Too many absences from practice or competitions can result in dismissal from the team
Students who do not have their own bow can borrow a school bow for the season. If you would like to purchase a bow, Archery Unlimited offers special prices for Prattville High School team members!
Team fees and due date will be announced once the team is named. There will be a mandatory parent meeting once the team is named. Schedules, fees and paperwork will be discussed.
In the documents below please review the Archery Clinic Information and fill out the Archery Clinic Waiver.
Get updates from Remind app by texting @pharch2122to 81010.
Also follow us on Instagram! @phsarchers
Please email Mr. John Cooper or Mrs. Teresa Calhoun for any other information. We are looking forward to a great 2021-2022 season!