Welcome to Prattville High School! Founded in 1976, we have a long history of academic and athletic excellence. Our student population averages 2000 with just over 630 athletes! Prattville High School is part of the Alabama High School Athletic Association as a Class 7A school. We are proud of each and every one of our coaches and student athletes. The work and commitment to excellence they put in to their program is unmatched.
At Prattville High School we offer 16 different athletic programs, with 30 individual teams for grades 9-12! For questions about any of the sports that we offer or information on how to join our Pride, please see the corresponding sports tab on the athletics page. Coaching contact information can be found there, along with any other information you may need. Also, check out our athletic calendar for a complete list of home (in cardinal) and away (in black) games.
Thank you for visiting Prattville High School Athletics and GO LIONS!
DIGITAL FORMS AND HEALTH RECORDS
DragonFly MAX makes our sports and activities more organized with secure, easily accessible and easy to use digital forms, health records and team communication!
Students:
Download the DragonFly MAX app from the App Store or Google Play. You can also go to Dragonflymax.com.
Tap or click on "Get Started" and "Sign Up for Free" then follow the prompts to create your account with your own email address and password. **Be sure to write down what email and password you used for future log in!
Verify your account with the verification ID sent to your email address.
Tap or click "Connect to your school" to select "Athlete" as your role and search for Prattville High School.
After selecting your school, tap or click on "Join" to request access. Your access code is 5DDXAE. Then an administrator will approve your request
Enter all of your contact information and be sure to fill out your parent or emergency contact information as well.
Electronically fill out the participation forms that are provided and electronically sign.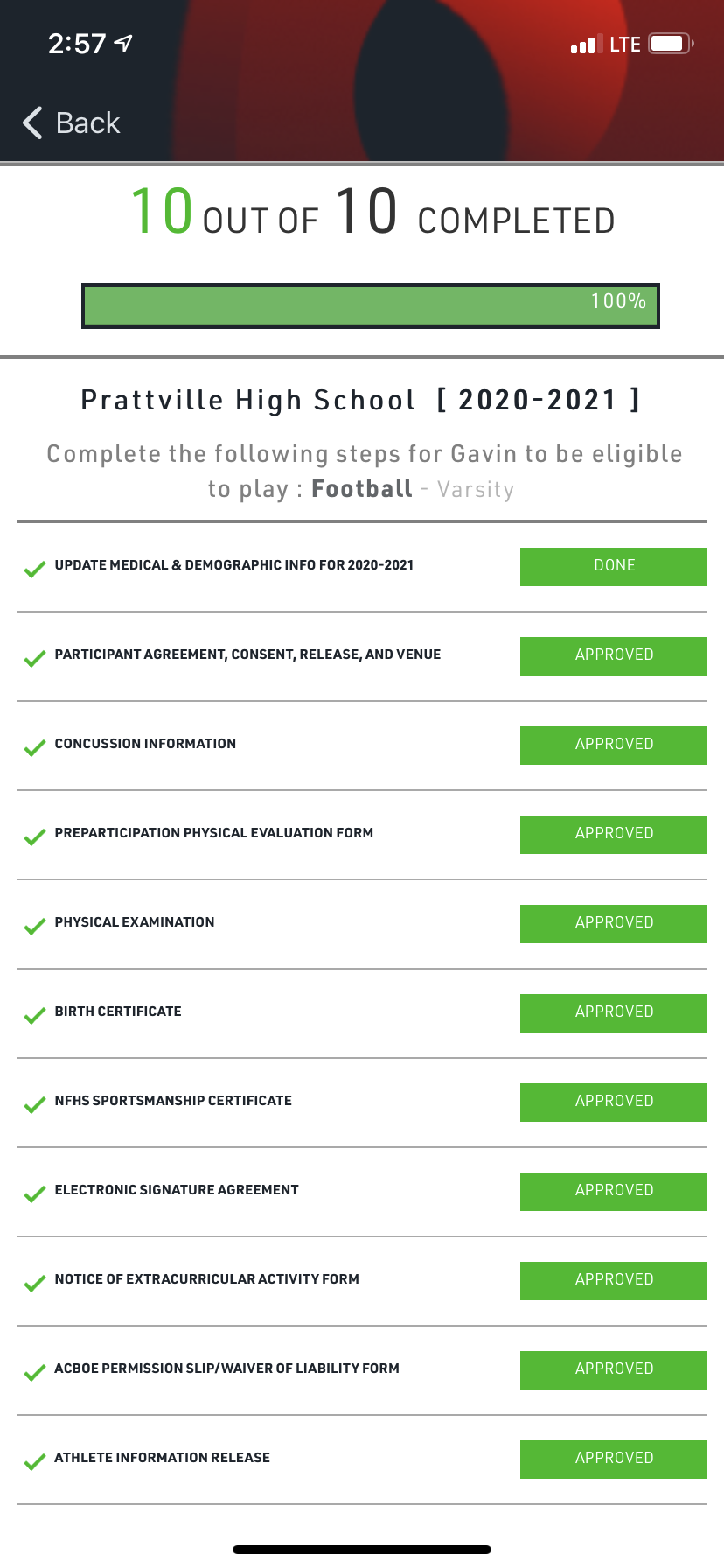 DIGITAL EVENT TICKET PURCHASE
Prattville High School is DIGITAL! We have joined with GoFan to offer digital ticket purchase and redemption. With us all adjusting to a world with Covid-19, Prattville High School is dedicated to keeping not only our teachers, staff and students healthy but also our parents and fans at all of our sporting events.
Download the GoFan app from the App Store or Google Play. You can also go to GoFan.co.
Tap or click on "More" then "Don't have an account? Sign Up."
Follow the prompts to set up your account with your password and email.
In the search bar type "Prattville High School" and you will see all current sporting events.
Tap or click on the event and date that you would like tickets for and select how many tickets you want to purchase.
After taping or clicking on purchase you will have the opportunity to enter your payment information. GoFan is a secure site and is able to keep your payment options on file.
Once purchased, your ticket will be available two ways. One- the "Tickets" icon at the bottom of the screen. Any ticket your purchase is stored there till you redeem them. Two- an email will be sent to the email on file and you follow the prompts to view / redeem them.
To redeem your ticket(s), wait till you get to the event. At the gate the worker will ask to see the ticket. You will show them the ticket on your phones screen and they will walk you through the redemption process.