Assistant Principal and Athletic Director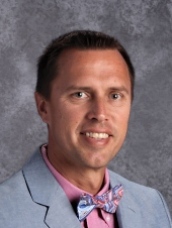 My wife, Jamie Dorsett Jackson, and I are from Prattville. We have three children: Dorsett 14, Sumner 12, and Knowlton 5. Our favorite things to do as a family is to go to the lake and be with our church family at First Baptist Prattville.
I graduated from Prattville High School and attended Shelton State Community College on a baseball scholarship. I finished my degree, as well as my baseball days, on a baseball scholarship to The University of West Alabama. In 2004, I began teaching in Autauga County schools. I taught at Prattville Intermediate School my first year, then spent the next ten years at Prattville High School. I coached football for nine years, baseball for ten, and was the PHS Head Baseball coach during the 2013 and 2014 seasons. I taught at one year at Daniel Pratt Elementary School while completing my Masters degree in Instructional Leadership. As an administrator, I served at Prattville Junior High School and Daniel Pratt Elementary School before transferring to PHS.
I am excited about starting my fourth year in administration here at PHS and I look forward to working with the students, athletes, and staff.
Go, Lions!